Wood Flooring: Prefinished Solid Plank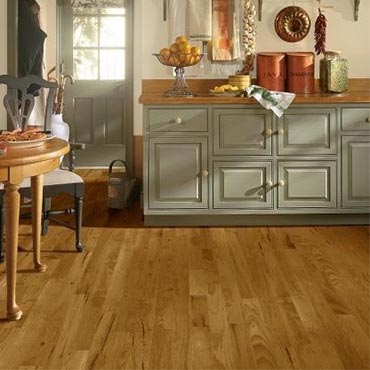 Solid, like it sounds, is milled from a single 3/4" thick piece of hardwood. Because of its thickness, a solid hardwood floor can be sanded and refinished over several generations of use. One of the characteristics of solid wood flooring is that it expands and contracts with changes in your home's relative humidity. Normally, installers compensate for this movement by leaving an expansion gap between the floor and the wall. Base molding or quarter round is traditionally used to hide the extra space.
Solid wood flooring is completely lumber. It is available in unfinished and pre-finished. Solid wood flooring is produced in:
 Strip - in thicknesses of 5/16" to 3/4" in widths of 1 1/2, 2" and 2 1/4"
 Plank - in thicknesses of 1/2" or 3/4" and widths of 3" to 8"
 Parquet - geometrical patterns composed of individual wood slats held in place by mechanical fastening or an adhesive
Brand Overview
---

---
Profile
|
Website
Real wood floors made of Maple, Oak, Beech, Elm, and Pecan should be as familiar to you as the countless city streets that are named after these trees. Their rich natural colors and hand-crafted quality is what we have come to expect in our homes. Now, Anderson has taken wood flooring technology to a place it has never gone before—with Best-in-Class durability.